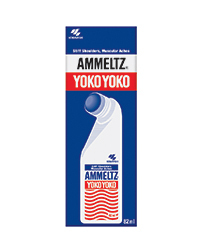 Effective in Shoulder Pain and Muscular Stiffness
Product Features 
Easy to apply


The liquid thoroughly infiltrate from the rubber cap, easy to apply and handle. Compactly packed in lightweight container, ideal to carry around in pocket or bag. Just tighten the cap, to avoid leakage

Applicable for every part of your skin


AMMELTZ differs from plaster, no need to bother the inconvenience of peeling off the plaster. It applies to every part of your skin including hairy part, joints and perspiration area etc.

Penetrate into the affected parts, long-lasting effect


Special formula, it thoroughly infiltrates into the affected part via skin, relieves your shoulder stiffness and muscular aches effectively and long-lasting.

Comfortable and refreshing


AMMELTZ is balmy, refreshing. Differs from plaster, the liquid keeps skin breathable.
Stronger effect will be induced from applying the liquid after shower or during perspiration, it is normal effect of the liquid to the affected parts. If you feel excessive tingling, wash it off with soap and put on a warm towel to mitigate the stimulating effect.
Do not use on children under the age of 2 years.
Volume
AMMELTZ 48 mL

AMMELTZ 82 mL
Indications
Stiffness of shoulders, Muscular Pain, Low Back Pain, Bruises, Sprains, Joint pain
Application directions
Apply a proper amount to affected area 2 or 3 times a day.
Active Ingredients (per 100mL)
Methyl Salicylate

5,000mg

ℓ-Menthol

5,200mg

dℓ-Camphor

5,200mg
Cautions
Do not apply to the following parts; skin affected with eczema or rash and wound.
Reactions vary according to the quantity of use, temperature and humidity.
The skin may at first appear red when used by some people with sensitive skin, but this will soon fade.
If you should have a rash, reddening, swell, itch, etc. due to the use of this product stop using and consult a doctor or a pharmacist.
Wash hands after use to prevent any chance of irritation to the eyes. If the medicine gets into the eyes, please rinse well with clean water.
It is dangerous to place any camphor containing product into the nostril of children.
A smell amount applied this way may cause immediate collapse.
This product contains methyl salicylate and when applied or rub on to the skin can be absorbed through the skin into the blood. For patients taking warfarin, excessive application on to the skin for muscle or joint pains may increase the chances of bleeding.
This liquid may cause stain on certain materials, such as plastics and leathers.
Do not use expired product.
Avoid direct sunlight and store in room temperature with a cap tightened.
Keep out of children reach.
CAN CAUSE CONVULSION
Contraindicated in infants below 2 years of age.
Caution must be exercised when older children are treated.
Avoid direct application into the nostrils.
↓SGのPKG裏面の該当部です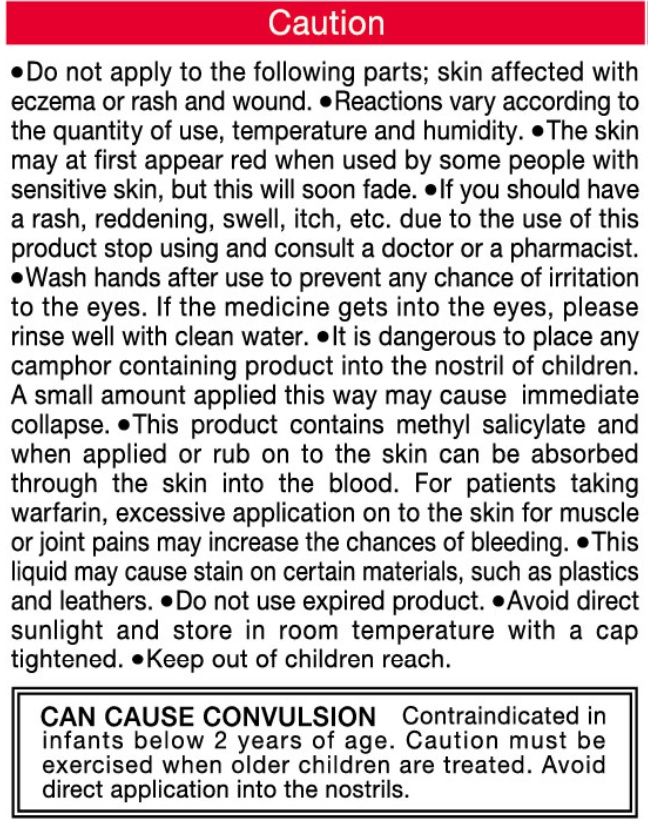 Contact Us
2, Alexandra Road, #04-01D
Delta House, Singapore 159919
+65 6270 8239
+65 62709016