KOOLFEVER Soft Cooling Gel Pillow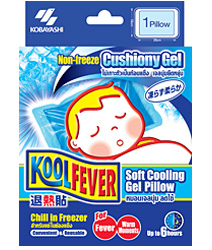 Non- freeze Cushiony Gel
Product Features
KOOLFEVER Soft Cooling Gel Pillow can be used for fever, sleepless and humid night.
It retains soft and cushiony texture as it contains special cooling gel that does not become frozen in the freezer (at -20 ̊C).
The soft gel fits the natural contour of the head and neck. It is reusable simply by chilling in freezer again.
The Cooling effect will last for about 4- 6 hours (depending on room temperature and usage environment).
When to Use
Fever

Sleepless night

Humid night

Warm moments
How to Use
1. Before use, place the pillow in the freezer overnight (at least 8 hours).
2. Wrap the pillow with a towel and use it within a suitable temperature range. Cut the cooling gel sheet to a suitable size with scissors according to the size of affected region.
Use each cooling gel sheet once only due to the reason of sanitation and effectiveness.
Cautions
This is not a medical product. Should fever persist, consult a physician.

When Soft Cooling Gel Pillow is used on infants, use under supervision of parents or other responsible adults

When it is used on infants or persons who cannot use the product themselves, please use under supervision of parents or other responsible adults with utmost care to avoid accidental intake or placing the sheet over mouth or nostril that may cause suffocation.

Since this product does not contain preservative, please use within 1 week after opening. Recommend to put in refrigerator and avoid direct sunlight.

Each sheet can be used once only.

It is not a pharmaceutical product. Please consult physician if fever persists.
Contact Us
2, Alexandra Road, #04-01D
Delta House, Singapore 159919
+65 6270 8239
+65 62709016