AMMELTZ BODY WARMER - BACK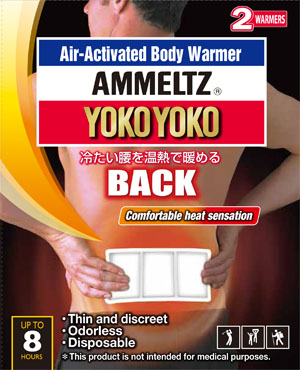 Air-activated body warmer generates heats to more than 40℃. The natural heat will last for 8 hours.
Large size heat patch of length and width 22 cm x 9.5 cm can stick fitly and firmly around applied part such as back.
Comfortable heat sensation.
No fragrance or medicinal ingredient is formulated. Thin, odorless and simple design is convenient to put into pocket and bag, as well as enable user to use at anywhere and anytime.
Product Pack Size
Direction of Application:
Ensure skin is dry and clean before applying body warmer.
Once ready to use, open the sachet by hand and gently peel off the protective film from the adhesive side of the body warmer.
Apply adhesive side of body warmer to skin.
After use, slowly peel off the body warmer from skin and dispose.
Do not apply the body warmer continuously for more than 8 hours in a day.
Do not use while in bed or in the shower.
Do not apply strong pressure to the body warmer while using it.
Use of product should be monitored to prevent low temperature burns.
Stop use immediately if it feels uncomfortably hot, or if rashes or itching occurs
Do not use on areas around wounds, rashes, damaged skin, face, or on areas where any medication has been applied.
Each body warmer is for single use only. Never attempt to microwave or reheat the body warmer by other means.
Do not use expired product and do not cut, bend or tear the product.
Do not open inner packet of body warmer.
Contents of body warmer are INEDIBLE. If accidentally swallowed, rinse mouth with water.
Keep out of reach of children, and store in a cool and dry place away from direct sunlight.
Once opened from individual packaging, use each body warmer immediately as the body warmer starts becoming warm after exposure to air.
Ideal for use in cold weather, outdoor sports, skiing, etc.
Contact Us
2, Alexandra Road, #04-01D
Delta House, Singapore 159919
+65 6270 8239
+65 62709016