KOOLFEVER COOLING GEL SHEET - BABIES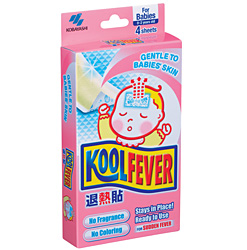 Cooling Effect lasts for Whole Night
Ready to use when any family member has fever. No need to cool in refrigerator. Convenient to use.
Adhesive gel sheet stays well in place even the user turns in bed or makes any body movement.
Comfortable and stable cooling effect persists for about 4 hours per sheet.
No Fragrance or color is used.
How to Use
Store in refrigerator for better cooling effect. (Do not store in freezer)
Remove the transparent film and tightly affix the gel-cooling surface to desired body parts.

Cut KOOLFEVER to a suitable size with scissors if necessary.

For single use only for efficacy and hygiene.
Cautions
Do not use the cooling gel sheet on eyes or any injured body area (e.g. cut, eczema, rash, burns, thermal injury, etc.)

Take extra care while using the cooling gel sheet on babies and infants or persons with weak skin. If any irritation such as swelling, rashes, etc., occurs during or after use, stop using immediately and consult a dermatologist.

When the cooling gel sheet is used on babies and infants or those who cannot apply the product themselves, use under supervision of parents or other responsible adults, and pay special attention not to let them eat or place the product into their mouth or nostril to prevent from suffocation.

The cooling gel sheet does not stick well if the skin is sweating or the sheet is attached on surfaces with hair or eyebrows.

Avoid storing in places under high temperature. Keep in a dark cool place for storage.

The cooling gel sheet is not a medicine. If fever persists, please consult a doctor.
Contact Us
2, Alexandra Road, #04-01D
Delta House, Singapore 159919
+65 6270 8239
+65 62709016